We manage your technology, freeing you to manage your business.
Technology is critical to both the day to day operations and the strategic growth of your business. Until now, having a complete IT department with a Network Administrator and Help Desk has been out of reach for most small to mid size businesses. With our Managed Services, we can deliver all these benefits and more for an affordable monthly fee.
Minkatec's Managed Services includes: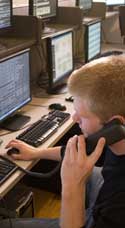 Network & Server Monitoring: We monitor critical services and applications such as Company e-mail and web sites including those provided by third parties, storage space, and processor utilization. e-mail alerts are sent when pre-established thresholds have been exceeded allowing us to know the instant a problem occurs. In many cases, we'll know before a problem occurs allowing us to take action to prevent down time.
Web Reporting: Log-in to view on-demand reporting of monitored services.
Remote Support: We deliver the presence of an in house technician without the cost.
Patch Management: We monitor your servers and workstations to ensure all current security updates have been applied.
Anti-Virus Monitoring: We check to make sure all of your workstations and servers have Anti-Virus installed with current definitions.
Power Monitoring: We monitor your Uninterruptable Power supplies. e-mail alerts are sent when power fails.
Minkatec's Managed Service Plans are tailored to your organization's unique needs. Please contact us for more information.